Bulletin 12-5-2022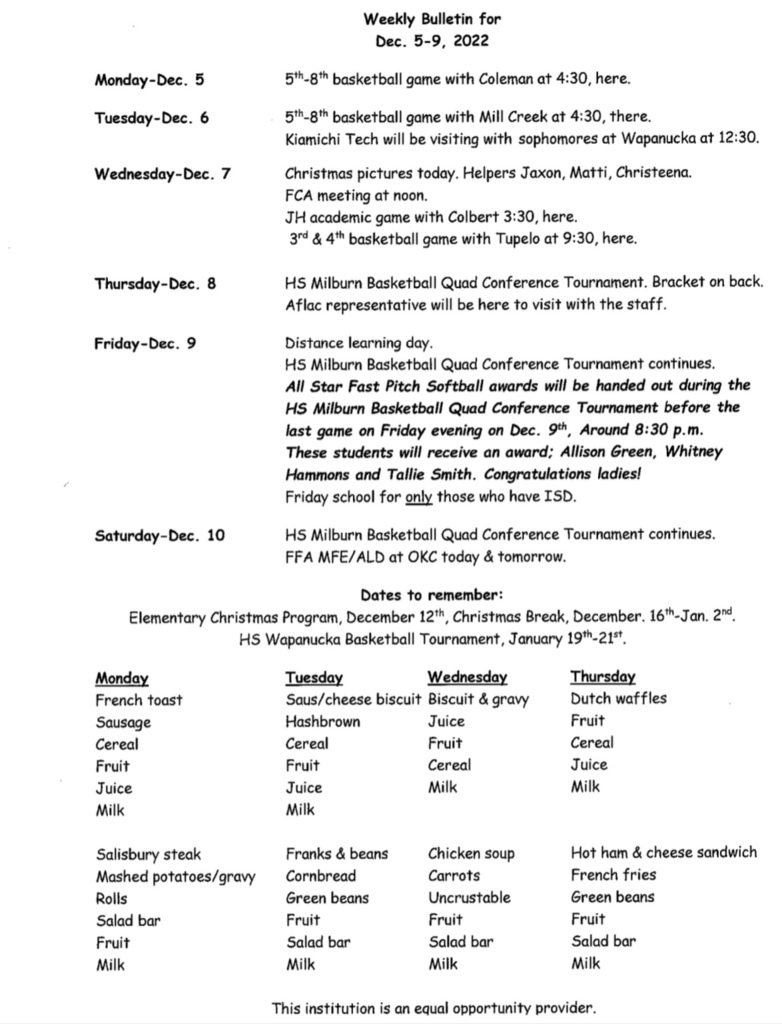 Bulletin 11-14-2022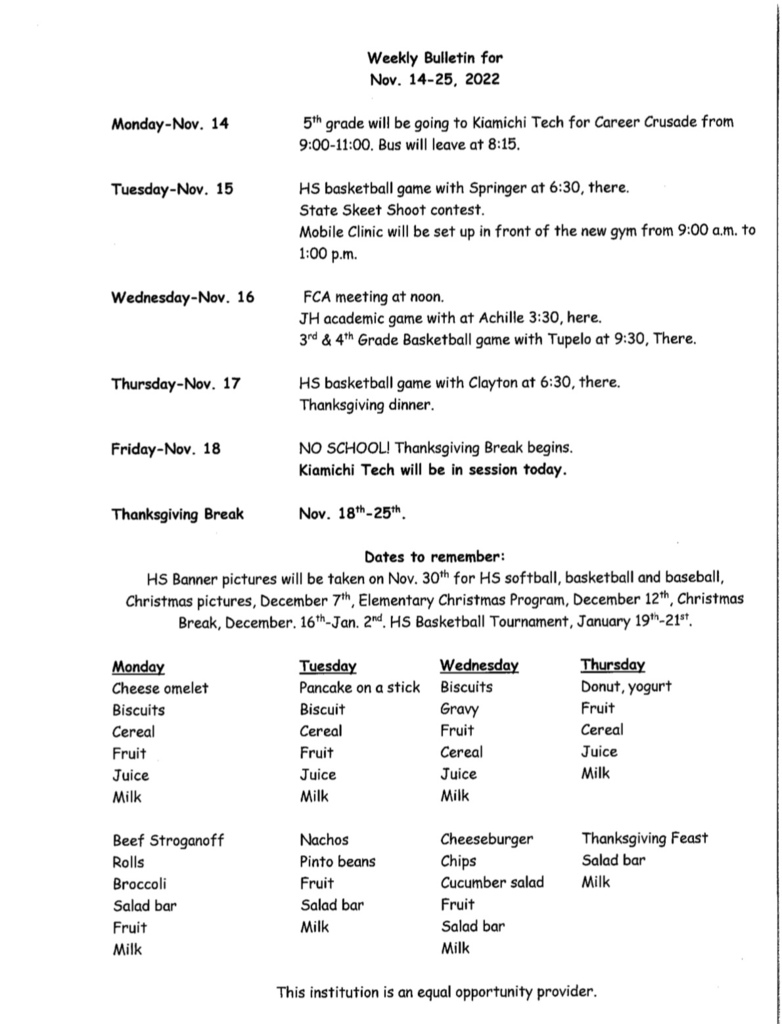 Attention Wapy Fans!! Friday is NEON NIGHT at the Wapanucka vs. Coleman Home Game. Wear your bright colors and come watch our players SHINE!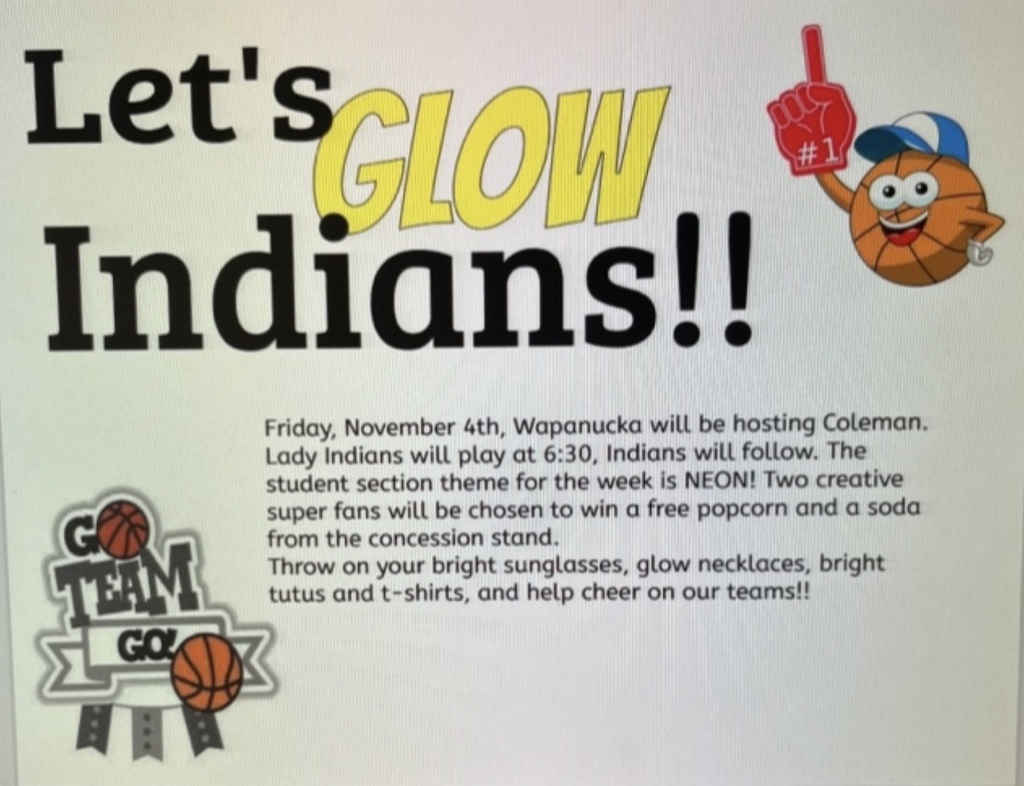 7th & 8th basketball QCC Tournament at Stringtown today. Bus will leave at 2:00. Boys will play at 3:30 against Milburn, Girls will play at 4:20 against Mill Creek.

Senior Parents needing to fill out for the FAFSA for your student, can get assistance at our Parent/Teacher Conference October 11th, from Mrs. Henry our Academic Counselor. Please see attached letters.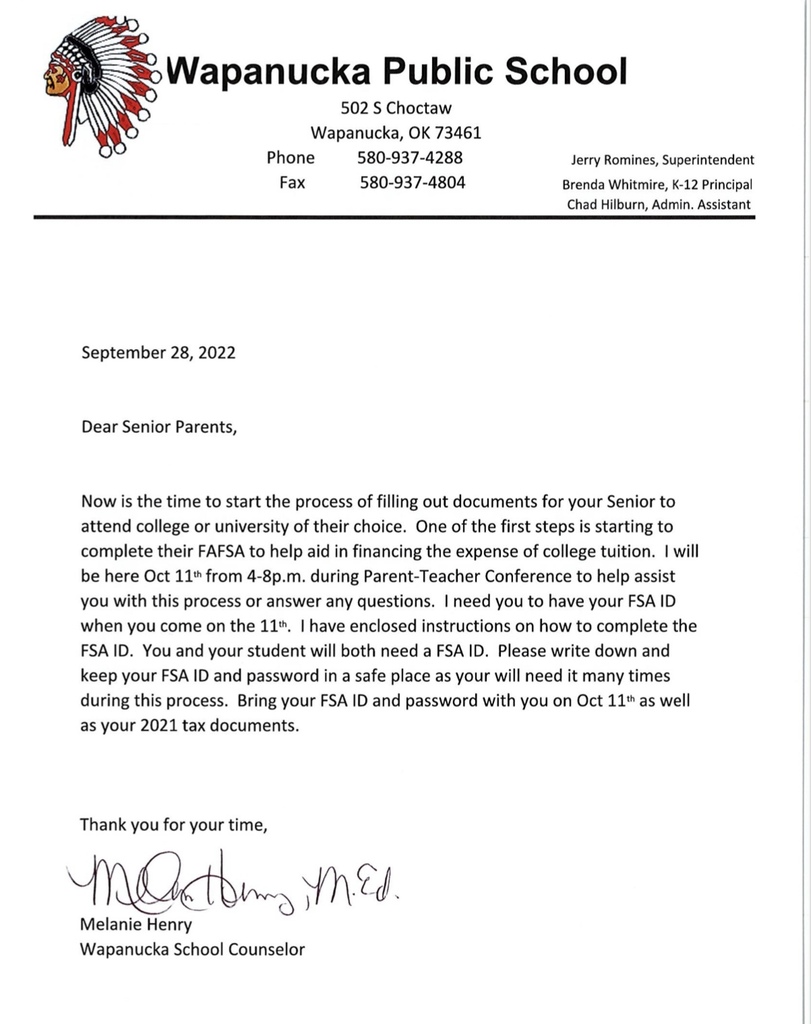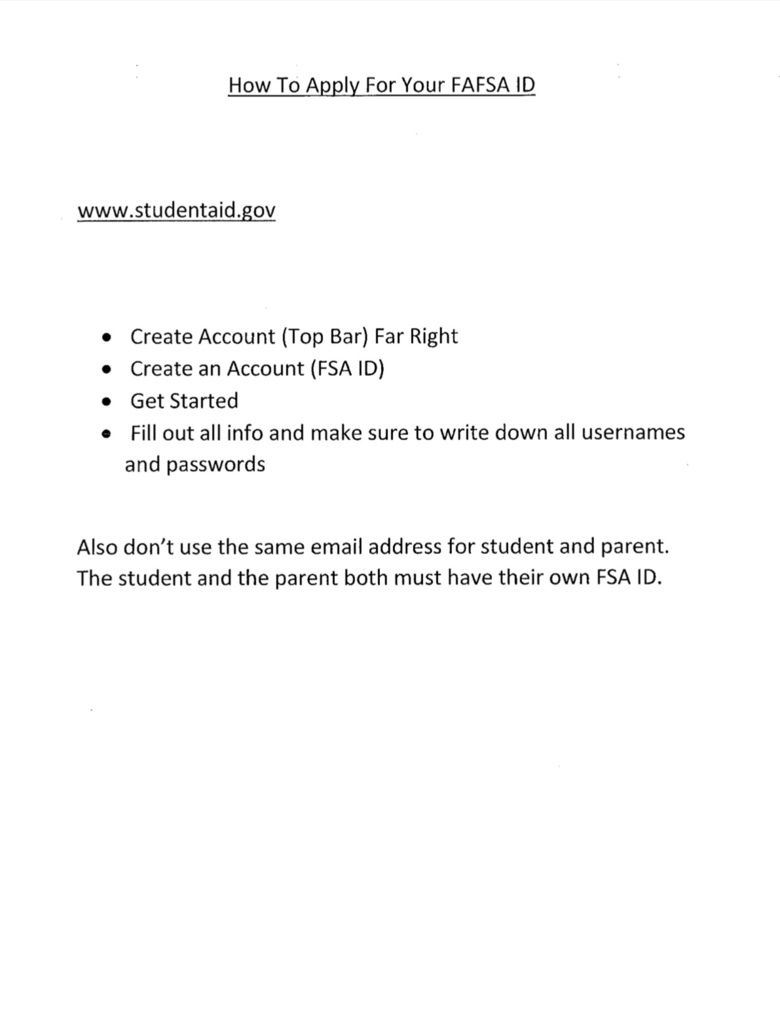 Wapanucka Fall Carnival is on Friday. October 7th, 2022 at 6:00 p.m.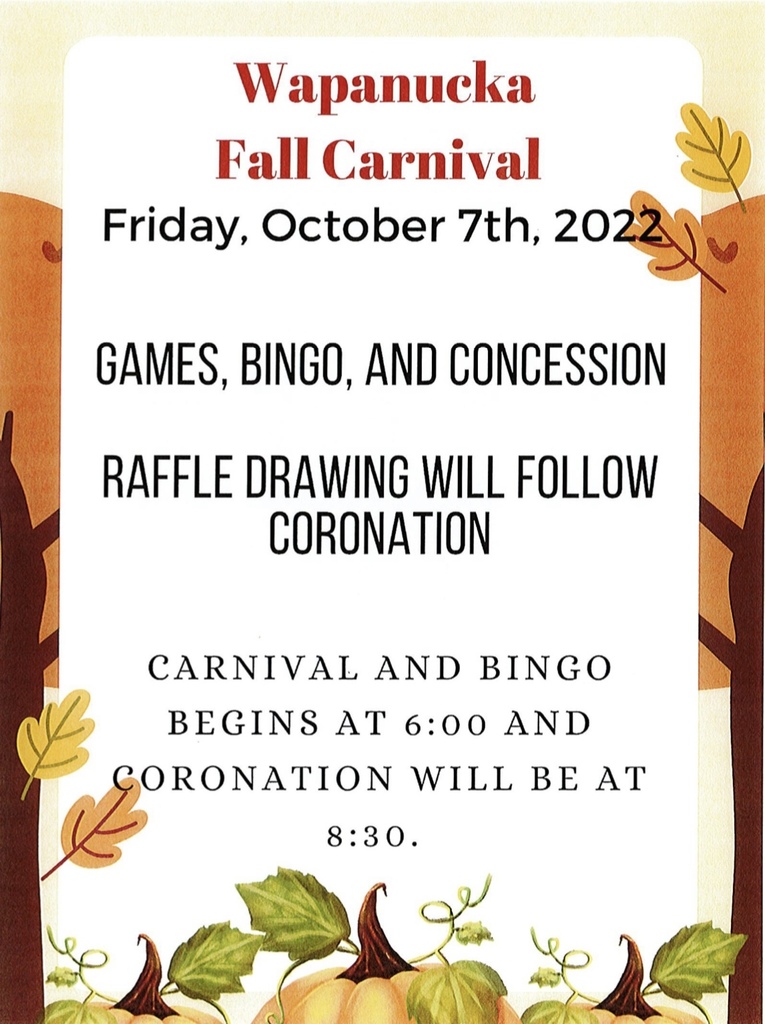 Wapanucka Elementary (3rd & 4th) & JH( 5th-8th) Basketball Schedule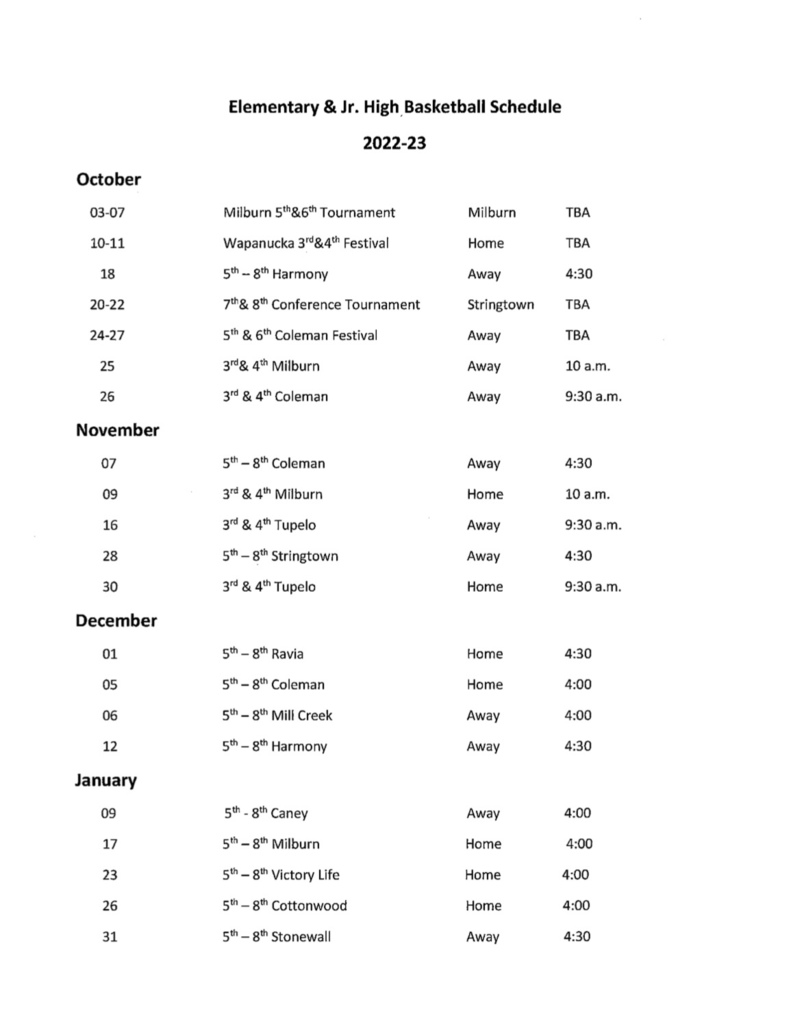 Wapanucka HS Basketball Schedule 2022-2023

Wapanucka HS Boys won their first game of the Districts at Roff. They defeated Pittsburg 20-2. Their next game will be at 4:00 p.m. with Roff. Go Indians!!!

JH/HS baseball will be traveling to Turner today (9-15-22). Game is at 4:30 p.m., bus will leave at 2:00 p.m.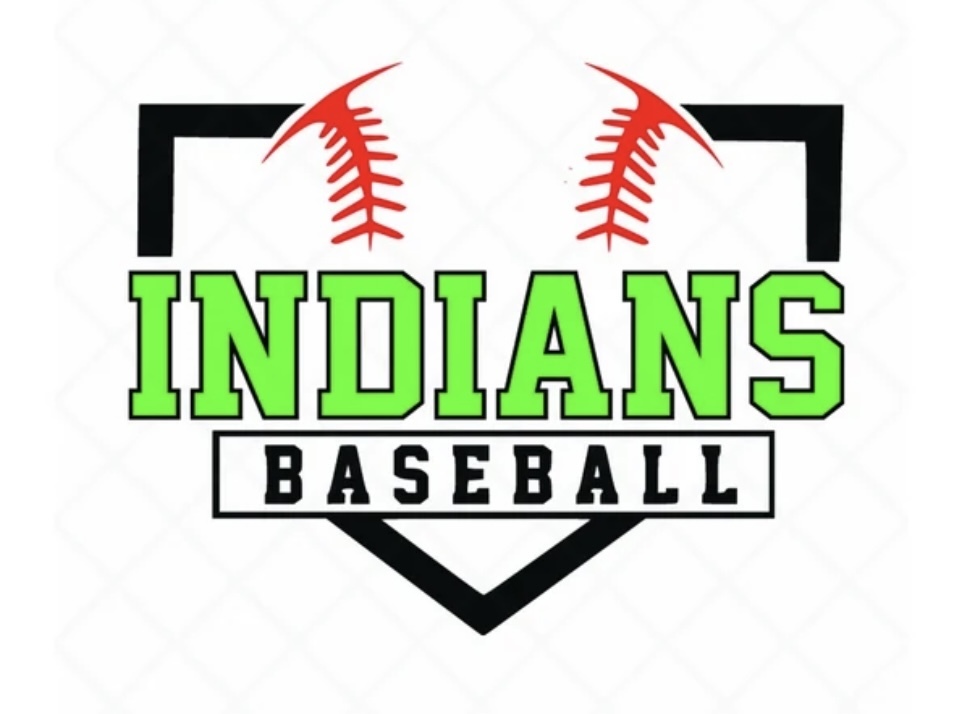 JH/HS softball game today (9-15-22) with Milburn at 4:30, here.

Senior pictures will be Wednesday, September, 21st at 8:00 a.m. There will be a $20 panel fee due the day of pictures.

Wapanucka Alt Ed students will not be in session-Thursday, 9-15-2022. All students please work from home.

HS Wapanucka Softball will play in the Districts at Tupelo, September 22nd. First game wll be at 4:00 p.m. Second game at 5:30 p.m.

Please make sure you do not throw your P-EBT cards away. Be sure to use them every 273 days to keep it from losing benefits.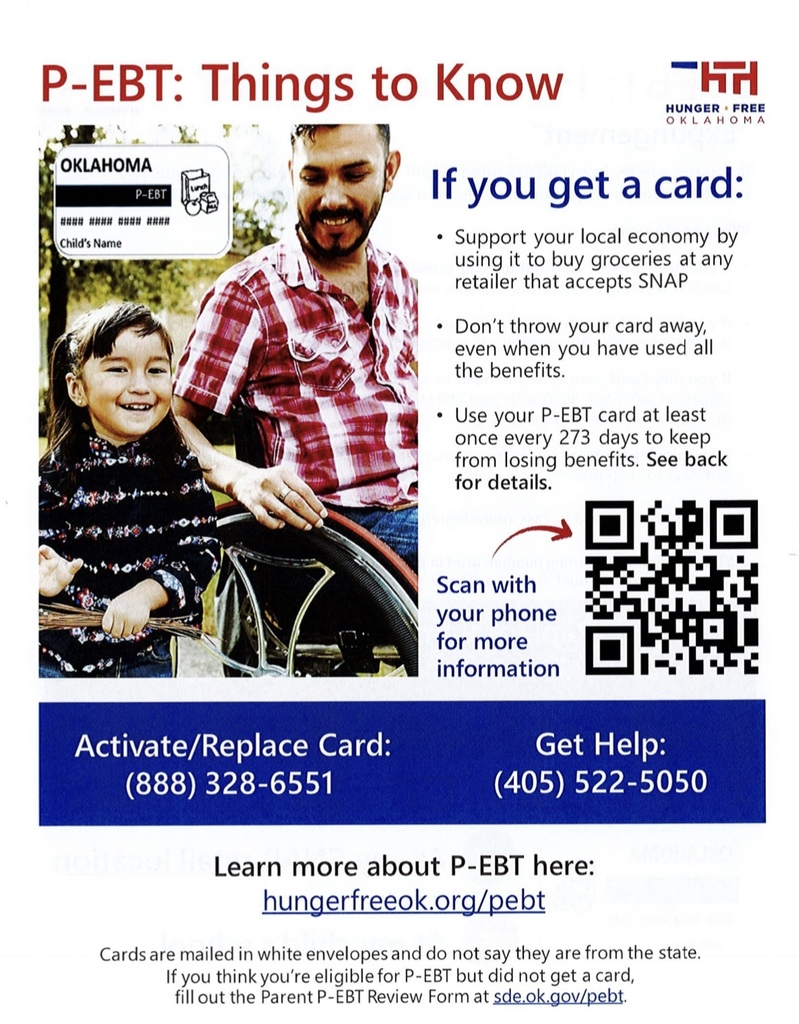 Attention parents of Choctaw Nation students in grades 2-12: The STAR application is now open on Chahta Achvffa, the Choctaw Nation's online portal, for the 2021-2022 school year's final report card. The STAR application has been extended until October 1. Students with all A's will receive a $25 Walmart gift card; A's and B's or all B's will receive a $10 Walmart gift card; and perfect attendance will receive a $25 Walmart gift card. Please contact us at 800-522-6170 for questions. Follow the Choctaw Nation STAR Program on Facebook for more information and to share a picture of your student with their award. Yakoke!

Wapanucka High School baseball game has been added on Friday 9-9-2022 at 4:30, here with Bennington and Varnum.

Wapanucka High School softball game on Friday 9-9-22 with Bennington has been canceled.

Softball T-shirts for sale. $25 apiece. Bella soft tshirt. If would like to purchase one please contact a softball player, Jeremy Smith or Leonora Burnett for a form.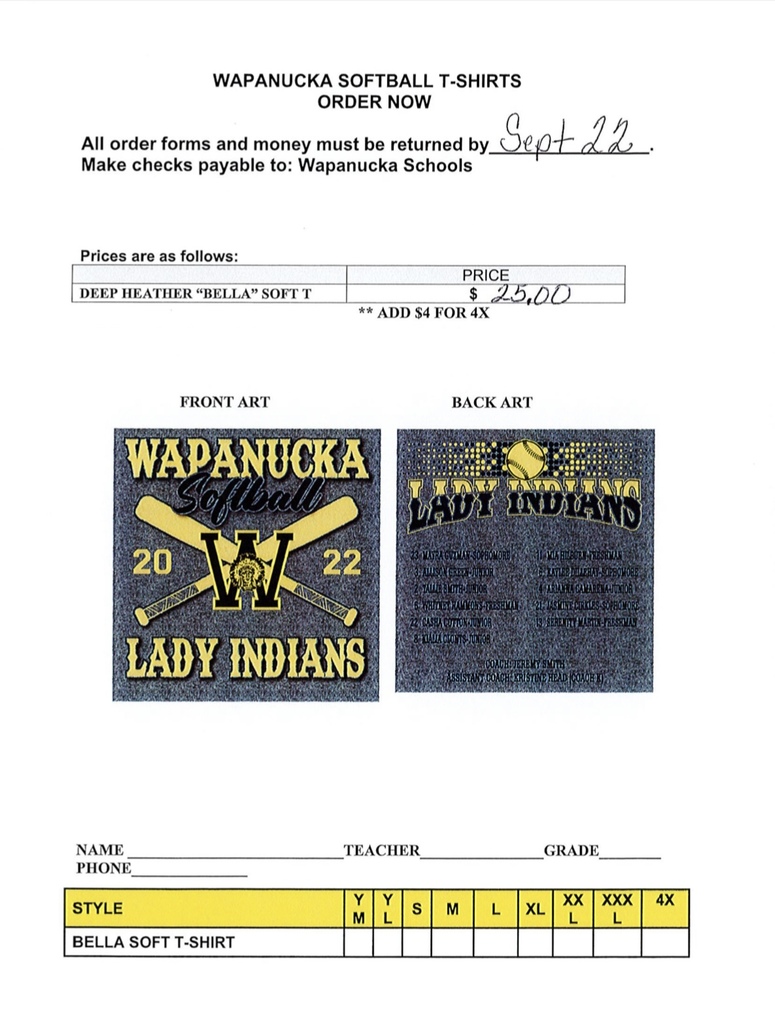 New game added today. HS Softball game with Clayton, there. Leave at 2:30.